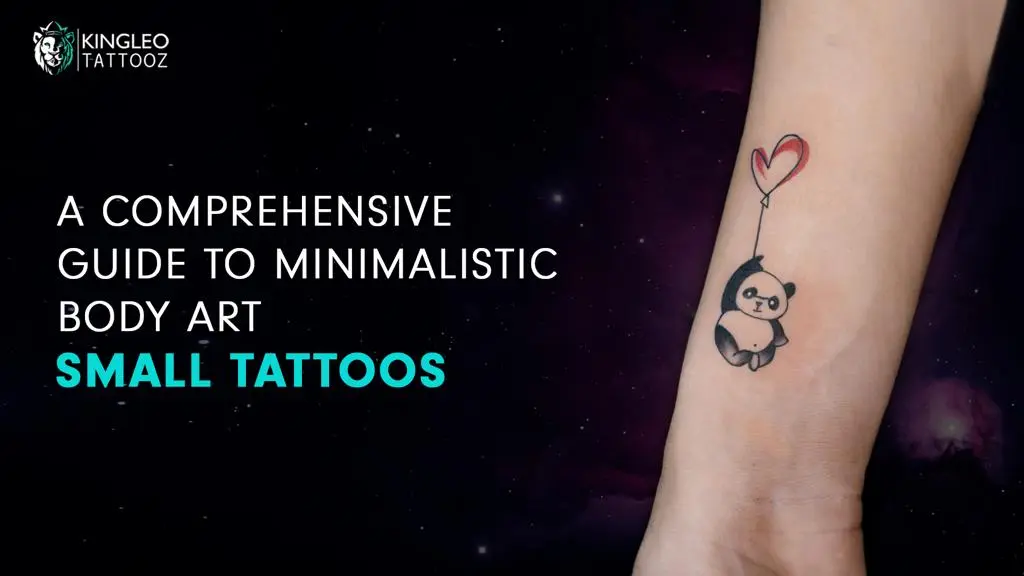 Introduction
In recent years, small tattoos have gained immense popularity among tattoo enthusiasts.
These dainty and minimalist designs offer a subtle way to express oneself through body art.
If you're considering getting a small tattoo but need more information before taking the plunge, this comprehensive guide is here to help.
From understanding what small tattoos are to exploring popular designs, choosing the right placement, and caring for your tattoo post-inking, we've got you covered.
So, let's dive into the world of small tattoos!
1. What are Small Tattoos?
Small tattoos, as the name suggests, are tiny, intricate designs that occupy a modest space on the skin.
They often feature minimalistic elements like delicate lines, small symbols, or discreet patterns.
Small tattoos can be black and grey or colored, usually in areas easily concealable or visible, depending on personal preference.
2. Benefits of Getting a Small Tattoo
Small tattoos offer a myriad of advantages. They provide a subtle way to express individuality, making them perfect for first-time tattoo recipients and seasoned ink enthusiasts. Some benefits of small tattoos include:
Less Painful: Since they require less time to complete, small tattoos are less painful than larger ones.
Affordable: Small tattoos are usually more budget-friendly than extensive, complex designs.
Versatile: Their size and simplicity make small tattoos adaptable, allowing you to place them almost anywhere on your body.
Easy to Conceal: Small tattoos are great for those who want to keep their body art private and visible only when desired.
Quick Healing: The smaller the tattoo, the faster it usually heals, reducing the overall aftercare time.
3. Popular Designs for Small Tattoos
Small tattoos offer endless possibilities for creative expression. Some popular designs include:
Heart: A classic symbol of love and affection.
Arrow: Representing direction and moving forward in life.
Infinity: Signifying eternal love and friendship.
Feather: Symbolizing freedom and spirituality.
Butterfly: A representation of transformation and beauty.
Wave: For those deeply connected to the ocean and its vastness.
Lotus: Denoting purity and enlightenment.
Sun and Moon: Representing balance and the cycle of life.
4. Choosing the Right Placement for Your Small Tattoo
Selecting the perfect spot for your small tattoo is essential, as it can influence the design's aesthetics and symbolism. Some popular placements for small tattoos include:
Wrist: Ideal for small, delicate designs that can be easily displayed or concealed.
Ankle: A subtle and elegant location for a small tattoo.
Behind the Ear: A discreet spot that allows you to show off your ink with a simple hair adjustment.
Finger: Small tattoos on the fingers are delicate and often carry deep personal meaning.
Collarbone: A trendy location for small tattoos, adding a touch of sophistication.
5. How to Prepare for Your Small Tattoo Appointment
Before your tattoo session, you must prepare yourself physically and mentally to ensure a smooth experience. Follow these steps to get ready for your small tattoo appointment:
Research: Spend time researching reputable tattoo artists and studios in your area.
Hydrate: It is important to drink plenty of water before and after tattooing to keep your skin hydrated.
Eat Well: Have a nutritious meal before your appointment to keep your energy levels up.
Wear Comfortable Clothing: Opt for loose-fitting attire that allows easy access to the area where you'll get inked.
6. What to Expect During the Small Tattoo Process
Getting a tattoo, regardless of its size, involves several steps. Here's what you can expect during the small tattoo process:
Consultation: Your tattoo artist will discuss your design idea and placement preferences.
Stencil Application: The artist will create a stencil of your design and place it on your skin for approval.
Tattooing: The tattooing process will begin once you're comfortable with the stencil placement.
Inking: Your artist will carefully ink the design, ensuring precision and attention to detail.
Final Touches: After completing the tattoo, the artist will clean and apply ointment to the area.
7. Aftercare Tips for Small Tattoos
Proper aftercare is vital for the healing and longevity of your small tattoo. Follow these aftercare tips:
Keep it Clean: Water and mild soap can gently clean your tattoo.
Moisturize: Apply a thin layer of tattoo-specific ointment to keep the skin hydrated.
Avoid Sun Exposure: Protect your tattoo from direct sunlight during healing.
Don't Scratch: Resist the urge to scratch or pick at your tattoo to avoid infections.
8. Small Tattoo Colors and Shading Options
Small tattoos can be either black and grey color. Color choice is determined by personal preference and the complexity of the design. Some shading options include:
Single-Needle Blackwork: For fine lines and detailed shading.
Water color: A vibrant and artistic approach to small tattoos.
Minimalistic Color: Use a few well-placed color for subtle vibrancy.
9. Small Tattoo Ideas for Couples or Best Friends
Small tattoos can hold deep significance in relationships. Here are some small tattoo ideas for couples or best friends:
Matching Symbols: Choose a symbol representing your bond, such as a heart or infinity sign.
Initials: Get each other's initials tattooed in a discreet location.
Puzzle Pieces: For friends who complete each other's lives.
Coordinates: The geographical coordinates of a meaningful location you both cherish.
10. Small Tattoos with Meaningful Symbols
Symbols carry powerful meanings, and incorporating them into your small tattoo can make it even more special. Consider these meaningful symbols:
Tree of Life: Signifying growth, strength, and interconnectedness.
Mandala: Representing harmony, balance, and the universe.
Anchor: Symbolizing stability and strength.
Lotus Flower: Denoting resilience and enlightenment.
11. How to Find a Reputable Small Tattoo Artist
A positive and satisfying tattooing experience begins with finding the right tattoo artist. Consider these steps when searching for a reputable small tattoo artist:
Read Reviews: Ensure that previous clients have left reviews and testimonials online.
Portfolio Review: Assess the artist's portfolio to ensure their style aligns with your vision.
Ask for Recommendations: Seek recommendations from friends or family members with tattoos.
Visit the Studio: Visit the tattoo studio to evaluate its cleanliness and ambience.
12. Temporary Small Tattoos: Pros and Cons
Temporary small tattoos offer a risk-free way to experiment with body art. Before choosing temporary ink, weigh the pros and cons:
Pros: No long-term commitment, painless, and an opportunity to try different designs.
Cons: Short-lived, may not look as realistic as permanent tattoos, and limited design options. While temporary small tattoos are a fun way to experiment, remember they won't offer the same lasting significance as permanent ones.
13. Small Tattoos for Different Body Types
Small tattoos can be flattering for various body types. Consider these tips when choosing a small tattoo for your body shape:
Petite Frame: Opt for delicate and fine-lined designs to complement your smaller proportions.
Curvy Figure: Larger small tattoos can balance out curves and provide visual interest.
Athletic Build: Consider tattoos on areas that highlight muscle definition, such as the bicep or calf.
14. Common Myths About Small Tattoos Debunked
Small tattoos often come with their fair share of myths and misconceptions. Let's debunk some of the most common ones:
Myth 1: Small tattoos are less painful than large ones. Pain perception varies among individuals, and pain levels are not solely dependent on tattoo size.
Myth 2: Small tattoos need to be more detailed. Skilled artists can create intricate details in small designs.
Myth 3: Small tattoos fade quickly. With proper aftercare and sun protection, small tattoos can last for years.
15. Small Tattoo Inspiration from Celebrities
Celebrities have embraced the trend of small tattoos, setting examples for their fans. Here are a few popular celebrities and their small tattoo choices:
Rihanna: She sports a small Egyptian goddess Isis tattoo on her chest, symbolizing femininity and protection.
Justin Bieber: Known for his collection of small tattoos, including a tiny bird on his neck.
Selena Gomez: has a small and meaningful semicolon tattoo on her wrist, representing mental health awareness.
16. Tips for Maintaining the Longevity of Small Tattoos
To ensure your small tattoo stands the test of time, follow these maintenance tips:
Avoid Extreme Sun Exposure: Excessive sun exposure can cause tattoos to fade, so protect them with sunscreen.
Stay Hydrated: Keep your skin hydrated to maintain the vibrancy of your tattoo.
Moisturize Regularly: Use fragrance-free and tattoo-friendly moisturizers to prevent dryness.
17. Small Tattoos for Those with a Low Pain Tolerance
If you have a low pain tolerance but still desire a small tattoo, consider these pain-minimizing tips:
Choose Less Sensitive Areas: Opt for areas with more flesh and fewer nerve endings, like the upper arm or calf.
Breathing Exercises: Practice deep breathing during the tattoo process to relax and distract from discomfort.
Numbing Creams: Consider using numbing creams to reduce pain during the session.
18. Small Tattoos as a Form of Self-Expression
Small tattoos offer a unique opportunity for self-expression. They allow you to share your personality, beliefs, or interests through discreet and meaningful designs.
19. Precautions to Take Before Getting a Small Tattoo
Before getting a small tattoo, consider these precautions:
Health Conditions: If you have certain health conditions, consult a doctor before getting a tattoo.
Allergies: Inform your tattoo artist of known allergies to tattoo ink or other substances.
Research the Artist: Ensure the artist follows proper hygiene and safety protocols.
20. Removing or Covering Up Unwanted Small Tattoos
If you have a small tattoo you no longer resonate with, you have options:
Laser Tattoo Removal: This process gradually fades the tattoo using laser technology.
Cover-Up Tattoos: Skilled artists can design a new tattoo to cover the existing one.
Conclusion
Small tattoos are a beautiful form of body art that allows for creativity, self-expression, and individuality. Small tattoos can leave a lasting impression, whether you choose a tiny symbol with deep meaning or a delicate design for aesthetic purposes. Remember to research your design, find a reputable artist, and prioritize aftercare for the best results. Embrace your small tattoo with confidence, knowing it reflects a part of you that's uniquely beautiful.